We had the honour to interview the Barcelona Neuro-Hackers, winners of The ADDI NeuroToolKit Data Hackathon.
What is the NTK Hackathon?
The Alzheimer's Disease Data Initiative NeuroToolKit (NKT) Data Hackathon was a 17-day virtual event that took place from 1st -17th July 2022, during which teams around the world investigated several research questions related to biomarkers for Alzheimer's disease. The event brought together researchers, biostatisticians, data scientists, and clinicians that worked in self-selected teams and faced different scientific and data analysis challenges. Teams worked with specified tools, resources and datasets and competed in four different categories: patient value and clinical impact, scientific value, technical and innovation.
Who are the WBP-BBRC team members?
Our team, the Barcelona Neuro-Hackers, was formed by the following members from the Women's Brain Project (WBP) and the BarcelonaBeta Brain Research Center (BBRC).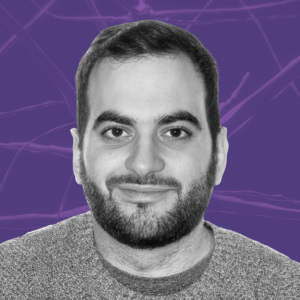 Armand González is a bioinformatician and predoctoral researcher at Barcelonaβeta Brain Research Center (BBRC). Within the Fluid Biomarker and Translational Neurology research group, his work focuses on the identification of blood factors with a rejuvenating or ageing effect aiming at the identification of potential therapeutic targets for ageing-related disorders such as Alzheimer's disease. He is also involved in the study of cerebrospinal fluid and blood biomarkers in the preclinical stage of Alzheimer's disease.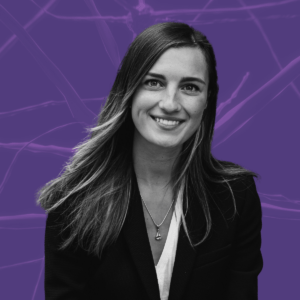 Laura Stankeviciute is a postdoctoral researcher also at BBRC. She is part of the neuroimaging research group and her research focuses on the study of the effect of sleep disturbances on neuroimaging and fluid biomarkers, as well as cognitive performance in cognitively unimpaired individuals at increased risk to develop AD. She is also part of the European initiative Amyloid Imaging for the Prevention of Alzheimer's disease (AMYPAD).  Laura is also involved in the WBP, where she participates in several projects on women's health and sex-specific risk factors for neurodegenerative diseases.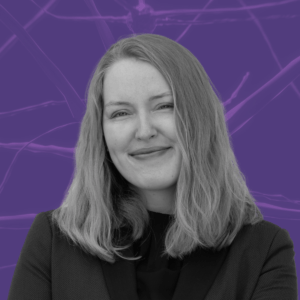 Julie Novakova Martinkova is a neurologist and PhD candidate at Motol University Hospital and Charles University, Prague, Czech Republic. Her doctoral research focuses on exploring sex differences in neuroimaging and risk factors for Alzheimer's disease.  She is also a member of WBP, where she focuses on the effect of sex/gender on clinically important aspects of Alzheimer's disease research, such as clinical trials.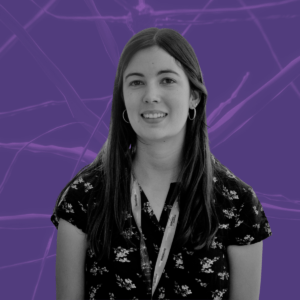 Marta Milà is a postdoctoral researcher at BBRC and also a member of WBP. At the BBRC, her work focuses on the study of cerebrospinal fluid and blood biomarkers for AD in the preclinical stage of the disease. She has a special interest in sex differences in AD pathogenesis and in the performance of biomarkers for early diagnoses. She has also been part of the AMYPAD and European Prevention of Alzheimer's Disease (EPAD) Consortium. In the WBP, she is involved in several projects studying the effect of sex on several factors related to AD, including AD risk factors, pathophysiology and clinical trials.
What does this Hackathon consist of?
The scientific aim of the Hackathon was the investigation of the potential clinical utility of different biomarkers in Alzheimer's disease.
In particular, teams worked on data from the European Prevention and Alzheimer's Dementia (EPAD) Consortium, which includes cognitively healthy individuals at increased risk for AD, as well as individuals with mild cognitive impairment, using the NeuroToolKit (NTK) App, the AD Workbench and the AD Connect tools to analyse data and network with other teams.
Teams had to work on two pre-specified Challenges within the hackathon. The first Challenge consisted of exploring the AD biomarkers in the context of the ATN (amyloid, tau, neurodegeneration) framework and their association with demographic, cognitive, functional or neuropsychiatric profiles. The ATN criteria allow the classification of individuals based on their biomarker profile for the pathophysiological hallmarks of AD: The aggregation of Amyloid protein in the brain forming amyloid plaques ("A"), the neurofibrillary tangles formed by aggregated Tau protein ("T") and Neurodegeneration ("N"). Therefore, it allows the study of the AD continuum from a biological perspective, which is very relevant when we aim to study its preclinical stage when clinical symptoms are not overt.
The second Challenge was optional and consisted of exploring further aspects related to AD biomarkers in the EPAD data, such as cutoffs for biomarker positivity, combined models to best predict cognitive decline or AD early diagnoses among cognitively healthy individuals, the effect of lifestyle or neuropsychiatric variables on the risk of cognitive decline, among multiple other possibilities.
What did your team do specifically?
Our team addressed both Hackathon Challenges. First, we worked on descriptive analyses to have a deep understanding of the data we were working on: demographic characteristics, cognitive and biomarker profiles and longitudinal cognitive trajectories. Next, we addressed the ATN challenge by applying the ATN classification and testing how AD biomarkers are associated with cognitive and neuropsychiatric profiles. To do so, we computed a composite of cognitive performance (Preclinical Alzheimer Cognitive Composite or PACC), which is known to be sensitive to subtle cognitive changes in the very early stages of the disease. We found that individuals with abnormal biomarker profiles using the ATN framework, and therefore with biological evidence of Alzheimer's disease pathology in the brain despite the absence of clinical symptoms, already show lower cognitive scores than those with normal biomarker profiles. We also found that biomarkers for Amyloid (A) and tau (T) are able to predict a longitudinal decline in cognition, at 4 years follow-up. These results are important in terms of the utility of these biomarkers for the early detection of cognitive changes that can be clinically relevant. Moreover, depression and anxiety levels were associated with tau pathology and Neurodegeneration (T and N categories), which is in line with the fact that they are independent risk factors for neurodegenerative diseases such as Alzheimer's.
In the second challenge, we decided to study sex differences in cognitive performance, neuropsychiatric variables and biomarker data. Interestingly, we found that women had higher baseline cognitive scores in the PACC compared to men, but also higher scores for depressive symptoms. However, there were no sex differences in biomarker levels or cognitive change over time, suggesting that there are sex differences in cognitive abilities and mood-related disorders that are independent of AD biomarkers.
What did this Hackathon mean to the Women's Brain Project? 
The Women's Brain Project aims to understand how sex and gender impact brain and mental diseases and to address sex and gender differences in medical practice. Sex is an important risk factor for Alzheimer's disease, which disproportionally affects women. Sex differences are known in some AD features such as clinical manifestation or vulnerability to risk factors. However, it still remains to be elucidated whether there are sex differences in disease pathogenesis, trajectory,  or in factors important for early diagnosis (such as biomarker performance). Initiatives such as the ADDI Hackathon, which enhance research on these important questions, bring us closer to understanding the disease from a precision medicine perspective, which will benefit both clinical research seeking effective therapies and clinical practice for optimal management of patients.
What does this award mean to your team? How did it feel to be given such an honour?
We were astonished and felt very honoured when we were awarded as winners of the scientific value category, at the ADDI/Roche NTK Symposium that took place during the Alzheimer's Association International Conference (AAIC), in July 2022 in San Diego.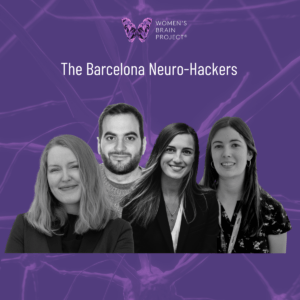 It was an intense and tough couple of weeks as we were working on the Hackathon on top of our main work duties, analysing data and meeting the team during our free time, at night or during weekends. Therefore, we were really thrilled to know that our effort was recognised with this prize. Also, we think that the scientific value is an especially relevant category to win, as it acknowledges the scientific quality of our work, the methodology used and the relevance of the results we obtained. Overall we feel really glad that with our participation in this initiative, we have successfully contributed to the AD research community. 
What is next for your team?
All members of the team are researchers in the field of ageing, AD or related dementias and continue to work, from multiple perspectives, on projects to better understand this disease and find ways to fight it. As a team, we keep access to our ADDI workspace, analyses and datasets used during the Hackathon which allows us to continue the work that we started during those two weeks and, importantly, remain connected to other teams working on the same field, which allows collaborations for validating and confirming our scientific results. Furthermore, most of us are also active members of WBP.
How can people support you and the WBP?
There are many ways you can support the work we are doing. You can get involved, by becoming a WBP member, sponsor, or volunteer, and you can even donate to our organisation! 
It's also such a huge support to have you follow us on all of our social media channels and share what we post with your friends, colleagues, and family. You can also support us by subscribing to our newsletter. 
Even if it seems like a simple thing, it really means the world to us. We couldn't do what we do without your support.