Claudia Falchi Delgado, WBP collaborator 
What can WE do? For us and our empowerment 
A lack of awareness of migraine has furthered the stigma and censorship around the neurological disease. This has led to the normalisation of women being conceived as "overreacting" or "too pain sensitive". Nevertheless, while suffering from migraine affects personal and workplace relationships, most importantly it affects oneself. It is good to remember that we are not anyhow less good because of migraine. Yet, a good first step is to accept that we are living with it and trying to embrace it instead of blaming it or feeling ashamed of it should be our starting point. 
Educating ourselves about what migraine entails for one's life will also contribute to knowing what we might face and what other thousands of women are feeling too in our surroundings. To help everyone with this empowerment, we can also create visibility on social media. This is why we invite you to learn from and share stories of women living with migraine by sharing our hashtag #NotAllinHerHead. 
Feeling empowered is also about not abandoning our passions, hobbies or jobs. Unfortunately, more and more women are forced to abandon their careers in their prime working years, starting from puberty due to migraine (Al-Hassany et al., 2020). This undoubtedly influences a women's choice of fulfilling their desired path and contributes to the suppression of migraine (starting with us and, as a consequence, with society). To prevent this from happening, we suggest our co-workers, healthcare professionals and policymakers can do something about it.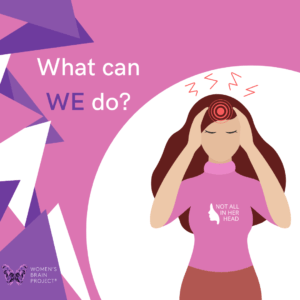 What can WE Do? – As Workers and as Co-workers
We can do what is in our hands as friends, employees, employers and institutions to make a change. For example, a Spanish study (Harvard Business Review, 2021) found that after a migraine-specific programme was launched, employee absences due to migraine decreased by 53%. In addition, productivity on days when workers experienced migraine attacks increased from 59% to 94.8%, amounting to a total reduction in productivity costs from €34.5 down to €4.6 per migraine per employee (an almost 90% decrease. In the specific case of this Spanish study, the programme's costs were shared between researchers and government funds. However, in many cases, companies will need to consider insurance coverage and any out-of-pocket expenses associated with these programmes before implementation. 
Another factor that can contribute to creating a positive working atmosphere and reducing the negative impact of migraine is social support from supervisors. Results showed that such were all associated with increased productivity for people with migraine, while a stressful work atmosphere was associated with decreased productivity. Therefore, what we aim to do with our women and migraine campaign is to create awareness and empower women with migraine. We hope this will open the eyes of everyone suffering from the disease and those living and working with them. 
What can WE do – As Healthcare Professionals 
As healthcare professionals, we can contribute directly to shifting this paradigm. Research has shown us that the number of times people have to visit specialists before a diagnosis is made can escalate up to +8 medical consultations. In other cases, 49% of the time, this could go over three years. As HCPs, we shall consider why this is the case and reflect on the current knowledge gap.
The knowledge gap remains the principal clinical barrier, as, on average, only 4 hours of undergraduate medical education are dedicated to headache disorders (WHO, 2016). Therefore, a more precise and in-depth understanding of both biological and gender aspects of migraine development and management would enable personalised medical and social approaches – a step closer to precision medicine tailoring sex and gender differences. 
If you are an HCP and have finished your studies but want to change, YOU can. There are plenty of innovative training programmes which aim to add on top your medical curriculum. In this regard, it would also be within HCP's responsibilities to know that migraine can affect women x3 more than men. Staying informed is key to avoiding this and contributing to positive change.
What can WE do? – As Policymakers 
Women living with migraine live in a world that does not accommodate or welcome them. Our campaign, "Not All in Her Head", stands for raising awareness and empowering women to tackle migraine. Still, this will only partially change without the action of policymakers. 
People report missing an average of 4.6 working days per month (Martelletti et al., 2018). Women are hit hardest. As a result, their possibility of escalating to upper positions within a company also gets tricky. Thus, we advocate for "migraine-friendly " workplace legislation, which creates a more inclusive opportunity for us and our work environment.
Putting clear policy frameworks in place, including more hours dedicated to migraine and other neurological diseases in education programmes, can positively contribute to access to adequate care pathways for current and future generations. A benefit will be produced by ourselves, workers and co-workers, and with the help of informed healthcare professionals and more robust policy frameworks. 
References: