Myasthenia gravis (MG) is a neuro-muscular autoimmune disease which results from antibodies that block or destroy nicotinic acetylcholine receptors (AChR) at the junction between the nerve and muscle.
MG most often occurs in young adult females under the age of 40 but can affect people of all sex and genders, ethnicities and ages. MG usually affects the muscles that control the eyes and eyelids, facial expressions, chewing, talking, swallowing, breathing, arm and leg movements as well as neck movements. Females with MG often find that their menstrual cycle and menopause cause an increase in symptoms. Sex and gender differences need to be researched and better understood to improve treatment options, care, and one day, a cure for MG.
In honour, of MG Awareness Month and the first-ever European MG Awareness Day, on June 2, 2023, we had the pleasure of interviewing long-time WBP supporter, digital artist and pharmacist, Maya Uccheddu, who lives with MG. She shared with us some of the ways MG affects her life and also, a message of hope for others living with a brain or mental disorder.
View a shorter version of this interview on YouTube or read the full interview below.
Let's Learn About MG with Maya Uccheddu
What's your name and where are you from? 
Maya Uccheduu: "Hello, I'm Maya Uccheddu. Online I am known as 'Lady Myasthenia'. I'm from Sardinia, Italy."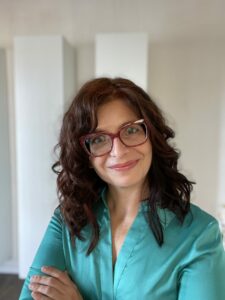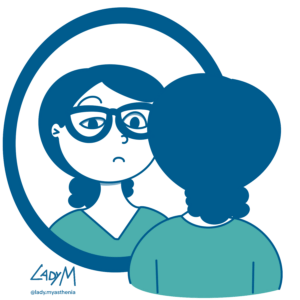 What is your diagnosis? 
Maya: "I have Myasthenia gravis (MG), specifically Seronegative MG, which is an uncommon form of an already rare disease."
Which symptoms most impact your everyday life? 
Maya: "Myasthenia gravis is an autoimmune neuromuscular disorder that fluctuates a lot, so what really impacts my everyday life is uncertainty. I live with an unpredictable disease, and it's difficult to make plans when you don't know if you'll be able to hold your neck, chew your food, walk long distances, properly use your arms or climb stairs, or just catch your breath. And the fatigue is just terrible. I have given up on the certainty that I can drive because of a very topical MG symptom called ptosis (droopy eyelid) and blurry vision."
Do you have good access to treatment and services that meet your health needs? 
Maya: "I have the best neurologist I could wish for, but I have to book a flight every time I have an appointment, MG is a rare disease, not many neurologists are really specialised in this disease. Having the seronegative form of MG means I have fewer treatment possibilities because most of the new treatments are approved for the more common form of MG known as 'anti-AChR positive'. We need more scientific research and seronegative patients like me should have more access to clinical trials."
Have you ever experienced gender and sex bias in your health journey?
Maya: "Yes, I have experienced bias many times. Sadly, it is very common with MG. MG is a very complex disease, and while it can cause many possible symptoms, not every patient has all of them. MG affects men and women differently, with men having more often a later onset and women an earlier one. Symptoms like fatigue, blurry vision, difficulty swallowing, and muscle weakness are often dismissed as anxiety, depression or stress in young women. It happens a lot with MG, and it happened to me too, more than once during my 6-year-long diagnostic journey.
At some point during my diagnostic journey, with mostly negative exams and tests (they weren't even for Myasthenia they had only ruled out Multiple Sclerosis), they asked me many questions about anxiety and stress and they asked me questions about my personal life too. They wanted to know if I was married, they asked me if I had children — and at first I thought it was a question of medical relevance (like that they were looking for a disease related to having had children etc.) but this neurologist told me that maybe my problems were due to the fact that I had been "married for 5 years, with no children yet". The doctor was assuming it was a mental problem. It was devastating for me. The doctors were seeing me, a sunny person who didn't seem depressed, and somehow still found easier to think it was in my head rather than an illness that they had not thought to test me for."
You've been with WBP for a long time, tell us about that.
Maya: "Yes, I have been with WBP since the beginning. I designed the first old logo with the little head and the butterflies (I'm a digital artist). I've been volunteering for years in the Communication Team."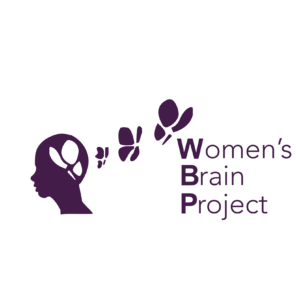 How can WBP continue to support you?
Maya: "WBP can support me by continuing to do what it has been doing for years: spreading awareness about gender differences in neurological disorders, making a real impact about it among the scientific community with scientific research, publications and engaging with stakeholders."
How has WBP inspired you?
Maya: "WBP  is a testament to the collective efforts and collaboration of all members involved. All the people that I've known working with WBP have inspired me in many different ways, and what each person brings makes the WBP mission so powerful and inspiring."
What do you wish more people understood about brain and mental disorders?
Maya: "I wish more people understood that you don't need to see visible symptoms to believe and validate them."
If you had one message of hope for those living with brain and mental disorders, what would it be?
Maya: "My message of hope for those living with brain and mental disorders is that scientific research will give us many treatments and answers in the future. I'm sure that what is invisible today will become visible and treatable tomorrow."
Support the Women's Brain Project
No one should experience any form of bias when seeking medical care. We must improve access to treatment and care for those living with Myasthenia gravis or any other brain disorder. This is why the Women's Brain Project is working to establish the Research Institute for Sex and Gender Precision Medicine. Please consider donating to our organisation.
About Maya
Maya Uccheddu is a pharmacist with a Master's degree in Pharmaceutical Chemistry and Technology. She is co-owner and manager of a para-pharmacy in a small Italian town. In addition, she is a freelance digital artist, showcasing her creativity and attention to detail. 
Maya is an active member of the Women's Brain Project, a non-profit organisation that advocates for women's brain and mental health. As a volunteer, she supports the communication team by creating visually impactful content for social media, webinars and events. 
Maya is also a very active member of the Italian Myasthenia gravis association (AIM) and she is dedicated to increasing awareness of the condition. Through her personal experiences living with Seronegative MG, Maya shares illustrations and drawings on social media to help others understand the challenges faced by those living with the condition. 
Maya is a chairperson of the European MG Patient Advocacy Group.  
As a patient advocate, Maya is an invited speaker at national and international conferences, where she shares her perspective and expertise on living with Myasthenia gravis
Find her on Instagram at @lady.myasthenia where she shares digital art focused on MG to raise awareness and help others feel less alone.