Second disease-modifying drug for Alzheimer's Disease approved by FDA opens a new era of hope for patients and families
The Women's Brain Project (WBP) has joyfully received the announcement of the approval by the Food and Drug Administration of Lecanemab for early Alzheimer's disease.  
Dr Antonella Santuccione Chadha, WBP co-founder and pro-bono CEO, stated: 'I applaud this incredible news and progress. Three imperatives remain now for all the stakeholders in the Alzheimer ecosystem: early diagnosis to save brains, drugs approved in Europe and the rest of the world immediately, and reimbursement for all.'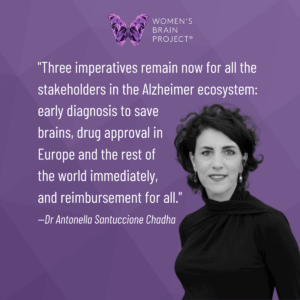 What is Lecanemab
Lecanemab is a humanized monoclonal antibody designed to remove amyloid aggregates from the brains of individuals experiencing mild cognitive impairment or mild dementia due to Alzheimer's pathology. In December, the developers Eisai and Biogen reported top-line results of phase three, a randomized placebo-controlled clinical trial testing the effect of the drug in a population of biomarker-positive patients at the Clinical Trial for Alzheimer's Disease (CTAD) meeting in San Francisco. On the same day, the results were published in a peer-reviewed journal, which has allowed transparent and deep conversations in the scientific community about this new drug. Indeed Lecanemab was successful in clearing amyloid plaques, as detected via amyloid PET, from the brain. The clearance of amyloid plaques was accompanied by moderate but significant clinical effects in several domains, with a potential delay of symptoms of circa 6 months. While the FDA has approved the drug under an accelerated approval program, the drug developers have also applied for a traditional approval to be based on the results of Phase 2 and 3 trials.  
A historical moment
Lecanemab is the second disease-modifying treatment for Alzheimer's disease approved in less than two years. 'This is the much-awaited reward of a long research process started over 20 years ago with the first experiments by Dr Dale Shenk on the therapeutic use of antibodies against beta-amyloid. With dedication, learning from our mistakes, and thanks to the generosity of thousands of families who took part in clinical trials, the community has made incredible progress that is now starting to be rewarded by success.' said Dr Maria Teresa Ferretti, WBP co-founder and Chief Scientific Officer.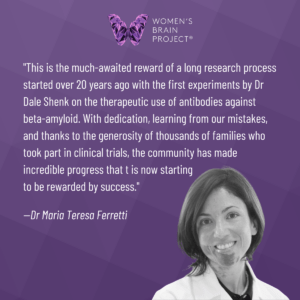 The WBP is delighted to see such progress in the Alzheimer's field, with the advent of new treatments that promise to act on the biology of the disease and not just on symptoms. In particular, the WBP team sees great potential in adopting a precision medicine approach in the current trials, by selecting patients based on evidence of biomarkers.  
Current controversies and future directions.
Several aspects related to the efficacy and safety of the new drug remain to be clarified in future studies. Long-term efficacy will need to be studied in Phase 4 trials, to evaluate whether the effect seen in the 18-month trial is maintained or increased over a longer period. Safety with regards to ARIA cases remains an important topic, in particular in association with tPA treatment. This aspect will require more data for proper characterisation and novel clinical protocols for management. The subgroup analysis of the Phase 3 trial also indicated a potential sex difference in clinical effects, with a male advantage which is reminiscent of the similar effect described in EMERGE with Aducanumab. However, this result needs to be confirmed in an ad hoc analysis. 
A new era for precision medicine in neurology
'Anti-amyloid monoclonal antibodies represent a significant step forward towards precision medicine in neurology' said Dr Maria Teresa Ferretti. Until today, treatment of mild cognitive impairment and dementia has been symptomatic, with the same drugs administered to patients living with different diseases sharing similar symptoms. Monoclonal antibodies against beta-amyloid are the first drugs to act on the underlying pathological process driving the clinical syndrome in Alzheimer's patients. For this reason, in the future, the molecular cause of symptoms will need to be identified, and only then a tailored treatment can be provided. Early diagnosis based on biomarkers is going to be key, moving forward, for the use of this new class of drugs, as not all persons living with mild cognitive impairment or dementia will benefit from an anti-amyloid drug but only those burdened by beta-amyloid in their brains. And this is just the beginning of precision medicine in neurology. In the future, the WBP calls for the further implementation of precision medicine in the definition of a subgroup of patients that can most benefit from the drug with minimal side effects. In this context, and as discussed in a dedicated, WBP-organised roundtable at CTAD, sex and gender differences are crucial characteristics to consider.  
The role of WBP
The WBP has worked in the past years to promote precision medicine for Alzheimer's and other brain and mental disorders. The WBP has documented and raised awareness of the differences between men and women in Alzheimer's presentation, including biomarkers, risk factors and neuropsychological symptoms, which are the gateway to precision medicine. In addition, the team has performed the first patient pathway study on Alzheimer's to characterize the specific needs of men and women in their journey through the disease (paper in preparation). The scientists at WBP are currently working on the economic case of gender medicine in neurology, with a focus on Alzheimer's. 'WBP has so far driven an unprecedented campaign to raise awareness on precision medicine in neurology. We are in the process of creating a pioneering Research Institute for the study of sex and gender-sensitive precision medicine in brain and mental health, and we remain available to lead a multistakeholder research project to analyse sex/gender effects in clinical trials of anti-amyloid antibodies in Alzheimer's.' said Dr Antonella Santuccione Chadha.