The Women's Brain Project believes that to improve global health and sex and gender precision medicine we must implement a multi-stakeholder approach, from patients and caregivers to policymakers and governments; we are truly stronger together than we are alone. 
This is why WBP is proud and grateful that our CEO and co-founder Dr Antonella Santuccione Chadha, Chief Scientific Officer and co-founder Dr Maria Teresa Ferretti and our Policy Lead Anna Dé have co-authored this new publication in Nature, titled Perspective: Global synergistic actions to improve brain health for human development.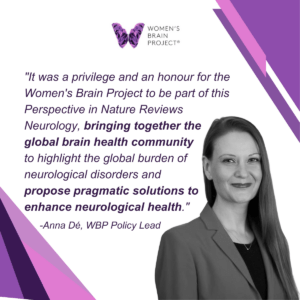 "It was a privilege and an honour for the Women's Brain Project to be part of this Perspective in Nature Reviews Neurology, bringing together the global brain health community to highlight the global burden of neurological disorders and propose pragmatic solutions to enhance neurological health." –Anna Dé, Women's Brain Project Policy Lead 
We were happy to contribute to highlighting some of the sex and gender differences in brain health especially in regard to caregiving and the financial burden of neurological disorders, "Women represent the majority of caregivers for patients with a number of neurological disorders, which can cause substantial financial and emotional burden."  
The financial burden is not just on caregivers and patients, but it can be found even at a global level— which is why we commissioned the Economist Impact to examine the economic rationale for investing in sex-and-gender-specific brain research, in the White Paper, Sex, Gender and the Brain: Towards an Inclusive Research Agenda. 
Women's Brain Project agrees that "Neurological disorders must be prioritized at local, regional and global levels by all stakeholders to achieve the greatest benefit for individuals who are directly affected and to lessen the burden on the wider society."  
"The figure shows the 17 Sustainable Development Goals (SDGs) set out by the United Nations as a call to action to end poverty and other deprivations, and address climate change, by improving health and education, reducing inequality and driving economic growth. Brain health is central to attaining all of these goals but is particularly important for SDG 3 (health), which itself is central to the other SDGs."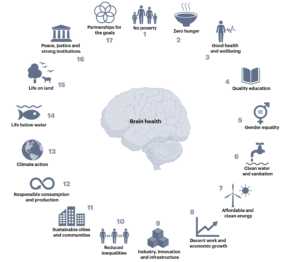 That is why WBP is committed to working with all relevant stakeholders to co-create on finding solutions (scientists, healthcare professionals, governments and policymakers, payers, regulators, pharmaceutical industry and, most importantly patients and caregivers) to ultimately drive policy change. This change includes the whole brain health community — it includes you!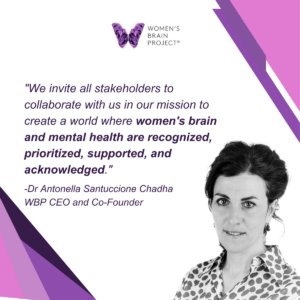 "The Women's Brain Project is committed to playing a central role in catalysing synergistic actions for brain and mental health. We recognize the critical need to address the disproportionate impact of brain and mental diseases on women, as well as support the invaluable contributions women make as caregivers.  Robust research and investments are needed to understand the vulnerability of female brains for the benefit of the entire society. 

We invite all stakeholders to collaborate with us in our mission to create a world where women's brain and mental health are recognized, prioritized, supported, and acknowledged."  -Dr Antonella Santuccione Chadha, WBP CEO and Co-Founder 
As we are working to establish the Research Institute for Sex and Gender Precision Medicine, we rely on supporters, volunteers, members and everyone at our organisation working together. We believe that the establishment of the Research Institute will improve the understanding, care and treatments for those with brain and mental disorders. However, we cannot do it alone, we need help from you too; please consider donating, volunteering or even becoming a member today. 
We can make history. We can change the world — but only, together. 
Please select this link to view the full publication in Nature Reviews Neurology.