Mental Health on the EU policy agenda: It is ok to not be ok
 On 7 June 2023, the European Commission presented the Communication on a comprehensive approach to mental health.  
Better mental health is both a social and an economic imperative. Before the COVID-19 pandemic, mental health problems affected around 84 million people in the EU (one in six people), at a cost of EUR 600 billion or more than 4% of GDP, with significant regional, social, gender and age inequalities.  
With 20 flagship initiatives, from improving mental health promotion, prevention, intervention, access to treatment and care to quality of life, the European Commission brings €1.23 billion in EU funding to support Member States in this effort.  
The message from the European Commission is clear- mental health affects everyone and every part of our lives. We must do more to protect it, because #MentalHealthMatters. 
EU action on mental health will focus on three guiding principles: 
adequate and effective 

prevention

,

 
access to high quality and affordable mental 

healthcare and treatment

, and

 
reintegration 

into society after recovery.

 
This comprehensive approach looks at mental health across all policies to recognise the multifaceted risk factors of mental-ill health. This will include a European Code for Mental Health and strengthened research on brain health (through a joint EU and Member State ecosystem for brain research). The Gender Equality Strategy is specifically highlighted, as well as the Proposal for a Regulation on the European Health Data Space, which aims to facilitate better access to health data for research and innovation, including in the area of brain research. 
The European Commission will support the implementation of the European Care Strategy with actions that contribute to the mental well-being of carers and those being cared for. There are huge gender equality issues in terms of caregiving. In Europe, as a result of unpaid care responsibilities, a staggering 7.7 million women are not able to work. 
"There is no health without mental health and there can be no European Health Union without equal and timely access to prevention, treatment and care for our mental health. Today marks a new beginning for a comprehensive, prevention-oriented and multi-stakeholder approach to mental health at EU level. We need to break down stigma and discrimination so that those in need can reach out and receive the support they need. It is ok not to be ok, and it is our duty to ensure that everyone asking for help has access to it."

-Stella Kyriakides, European Commissioner for Health and Food Safety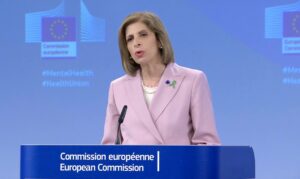 Sex and gender differences under the spotlight
The Women's Brain Project (WBP), as the world experts in the field of sex and gender determinants of brain and mental health to achieve precision medicine and care, welcomes the European Commission Communication on a comprehensive approach to mental health.  
"We're delighted at the Women's Brain Project to see that not only has mental health been prioritised on the EU policy agenda, with the first comprehensive European approach to mental health, but the sex and gender perspective has also been taken into account. Furthermore, the European Commission will strengthen research on brain health, including on mental health, by working closely with Member States to create an ecosystem. Now we need to make this plan a reality." 

-Anna Dé, Head of Policy & Advocacy, the Women's Brain Project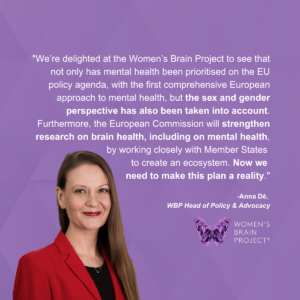 We commend the European Commission for highlighting the following in its approach to mental health: 
Promote tailored approaches   
Organise

age-, gender- and culture-sensitive

mental health promotion, disease prevention and management.

 

Assess the specific needs of

vulnerable groups

and develop solutions fitting their needs, preferences and possibilities.

 

Work on mental health in

co-creation

with people with

lived experiences

of mental health problems and with professionals in mental healthcare.

 

Be

inclusive and take into account diversity

when addressing mental health in policies and practices. 

 
High-quality, person-centred, care  
Improving access to treatment and care 
Inequalities related to

gender

, ethnicity, geographical location, including the urban-rural divide, education, age and sexual orientation, gender identity or expression and sex characteristics

have an important impact on the population's mental health and their access to adequate care. 

 
Data collection and monitoring

needs to be strengthened to facilitate informed decision-making.

 
Helping those most in need  
Mental illness is associated with many forms of inequalities and special attention must be paid to people in

vulnerable situations.

 
Victims of gender-based violence (GBV)

are particularly vulnerable. The European Commission will enhance the protection and support to

victims of gender-based violence. 

 

Postnatal depression

and

other mental health issues that can arise during pregnancy

and afterwards must be addressed, to protect the mental health of both

children and women.

 

Challenges such as unequal access to employment, including non-permanent contracts and/or to equal pay, unequal sharing of domestic and family care responsibilities, and economic pressures and

dependencies experienced by women

must also be tackled. 

 

The European Commission will contribute to improving the situation by ensuring that Member States fully and correctly transpose and apply the EU's legislation on

equal opportunities and equal treatment

of women and men in matters of employment and occupation, on work-life balance for

parents and carers

as well as on pay transparency. 

 

Discrimination on the grounds of

sexual orientation, gender identity, gender expression, or sex characteristics

can also have an impact on mental health, especially for

young people. 

 

Member States are encouraged to

collect data on the mental health status

of people in vulnerable situations. 

 
Concluding message from our CEO
"The Women's Brain Project enters an exciting new chapter, as it transforms from an association into a Foundation, paving the way for the Research Institute for Sex and Gender Precision Medicine. Further to the new comprehensive approach to mental health in Europe, we look forward to working closely with the European Commission to ensure that all matters pertaining to mental health work for the benefit of all, taking into account sex, gender, ethnicity, age and socio-economic background. WBP is committed to working with all relevant stakeholders to ultimately drive policy change for the greater good."

-Dr Antonella Santuccione Chadha, co-founder and CEO, the Women's Brain Project