Happy Women's History month! This week (March 13th – March 17th) is also Brain Awareness Week.  
At some point in their lives, one in three people will develop some type of neurological disorder – the leading cause of disability and the second leading cause of death (after heart disease). 
In honour of Brain Awareness Week, the Women's Brain Project (WBP) would like to share the main risk and prevention factors for the five brain diseases covered in the WBP-Commissioned Economist Impact White Paper published on International Women's Day 2023.  
It is not common knowledge that neurological disorders affect men and women differently, with women overwhelmingly affected by the most prevalent brain disorders.  
In correspondence with the language used in the White Paper, the terms female/male refer to biological sex differences whereas the terms woman/man refer to gender differences.  
Multiple Sclerosis 
Multiple Sclerosis is the most common disabling neurological disease in young people, with the average age of diagnosis being 30 years.  
Females make up 2/3 of the burden although men have a higher risk of severe MS.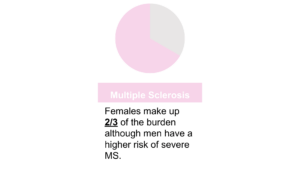 The biggest risks for MS include: 
Smoking 

 

Poor diet 

 

Lack of physical activity 

 

The risk of developing MS doubles for obese females with a BMI over 30, an effect that isn't seen in males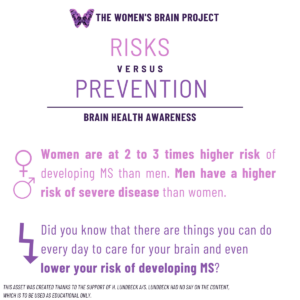 Though MS cannot be totally prevented, quitting smoking (if applicable), maintaining moderate body weight, and getting enough vitamin D through diet or sun exposure can help reduce risk. Staying active, minimising stress levels, and following a healthy diet may also be beneficial. 
When it comes to prevention, other than lifestyle-related behaviours, early diagnosis is key for a better prognosis. However, misdiagnosis and late diagnosis are much more common in women than men making disease treatment and prevention more difficult.  
Stroke
Females make up 55% of the global burden. Female risk of stroke (and the number of patients) increases with age and menopause. In fact, before menopause, women when compared to men, are at a lower risk of stroke but once menopause begins this is reversed and they become more at risk of stroke than men.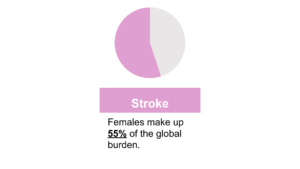 Strokes are the second leading cause of death worldwide and a leading cause of disability. Overall, females during menopause not only have a higher stroke prevalence rate compared to males but they also have a higher risk of having an ischaemic stroke.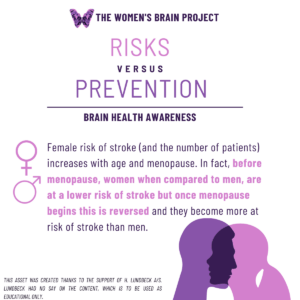 The major risks include: 
Smoking


-This is the highest lifestyle-related risk factor; the risk of stroke increases by 88% between smoking and non-smoking females

Pregnancy

Pre-eclampsia 

Atrial fibrillation

Contraceptive use

Hormonal therapy

Menopausal transition

Migraine with aura

Factors related to ethnicity, comorbidities and age

 
When it comes to prevention, the best way to help with lowering stroke risk is to eat a healthy diet, exercise regularly, and avoid smoking and drinking too much alcohol. 
Another aspect to consider is being able to recognise the signs of stroke as early intervention leads to a better outcome. Misdiagnosis of stroke is more common in women than men. 
Alzheimer's Disease
Alzheimer's Disease is the most common form of dementia making up 60-80% of all cases. Older females constitute  2/3 of the burden.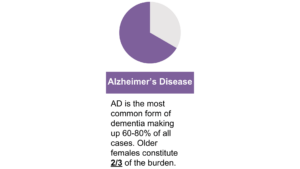 Other than risk factors related to sociodemographic variables, Alzheimer's has been associated with 12 risk factors which were identified by the Lancet Commission in 2020 (The Lancet 2020).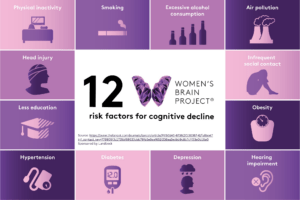 The 12 modifiable risk factors include: 
Physical inactivity

 

Head injury

Less education


–

Women are at a higher risk of this and on average older women have had less education when compared to older men.

 

Hypertension

Diabetes

Depression


-Depression disproportionately affects women. Caregivers, most often women, also have high rates of depression.

Hearing impairment

Obesity

Infrequent social contact

Air pollution

Excessive alcohol consumption

Smoking

 
These risks could be reduced through targeted programmes that address lifestyle changes. Sex- and gender-specific risk factors have been proposed for both men and women and might be leveraged for precision prevention. (Women's Brain Project, ADI 2021 Report, page 239)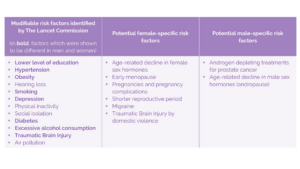 Overall, maintaining social connections, ensuring you are getting good quality sleep, staying physically active, challenging your mind by learning new things, eating a well-balanced and nutritious diet and taking care of your physical and mental health will lead to a lower risk of developing Alzheimer's.  
Parkinson's Disease
Parkinson's Disease is more prevalent among males; globally, 4.6m males are living with Parkinson's as compared to 3.8m females.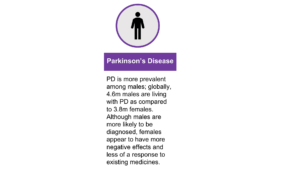 Although males are more likely to be diagnosed, females appear to have more negative effects and less of a response to existing medicines.  
Risk factors include: 
Age 

 

Sex

 

Genetics

Environmental factors


–

Men are at higher risk due to the environmental factors they face at more manual labour jobs such as woodworking, painting or metallurgy. Women tend to be less inclined to take up roles in these industries which contributes to the disparity of the disease across sexes and genders.

Hypertension

Cerebrovascular disease 

Type 2 diabetes




-Type 2 diabetes is also a predictor of disease severity due to its positive correlation with progressive motor symptoms and cognitive decline

 
While there is no certain way to prevent Parkinson's as of today, we do know that maintaining an active lifestyle and eating a healthy nutritious diet helps your brain health immensely. It is also important to see your doctor regularly to monitor any of the conditions above which can raise your risk of Parkinson's.  
Migraine
Migraine is a major global health issue that affects over 1 billion people globally. In fact, it is the second most debilitating condition worldwide, preceded only by lower back pain.  
Migraine can be as much as 3 times more prevalent in females than males. Women also report a longer attack duration, increased risk of headache recurrence, greater disability, and a longer period of time required to recover. These sex and gender differences inspired the WBP to create the 'Not All in Her Head' campaign which highlights the disproportionate effect migraine has on women.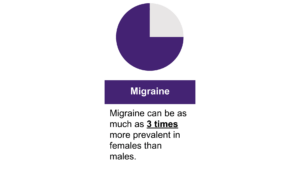 Risks associated to developing migraines include: 
Asthma

 

Anxiety

 

Depression
-Depression disproportionately affects women. Caregivers, most often women, also have high rates of depression.

Insomnia

Gastric ulcers

 

Angina

Chronic pain 

Ovarian hormones


-Migraines can be as much as three times more prevalent in females than males and studies tentatively suggest that this is due to differences in hormones through mechanisms that are not yet very well understood.

Menstruation

Dietary factors

Triggers


-Some people have triggers that they can easily associate with the onset of migraines. For women the top three triggers are menstruation, stress and bright lights.

Smoking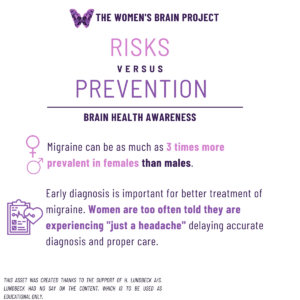 Reducing the risk of migraines can be difficult as they can appear without warning. Taking steps to ensure that you can keep a more active lifestyle and diminishing outside stressors to the best of your ability can help mitigate some of the effects. Also, if you do believe you are suffering from migraine, talk to your healthcare professional (HCP) about your symptoms to begin managing them as soon as possible. 
It is important for individuals to be aware of these risks as well as what prevention exists so that corrective steps and action can be taken accordingly. Furthermore, the identification of sex-specific risk factors will allow for better preventive measures to be introduced in the future. 
This is why the Women's Brain Project has partnered with H. Lundbeck A/S for Brain Awareness Week to educate, inspire and challenge everyone to take care of their brain health. This campaign will include an infographic, a new WBP video, and many more assets. Please follow us on social media for other updates and support us by sharing.
This asset was created thanks to the support of H. Lundbeck A/S. Lundbeck had no say on the content, which is to be used as educational only.